Next-Generation

Site Management Platform

Cubikil provides one-of-a-kind data management software that allows you to efficiently track every aspect of your business. From booking reservations to processing payments to closing invoices, we offer a seamless, all-in-one solution.

Cubikil Key Features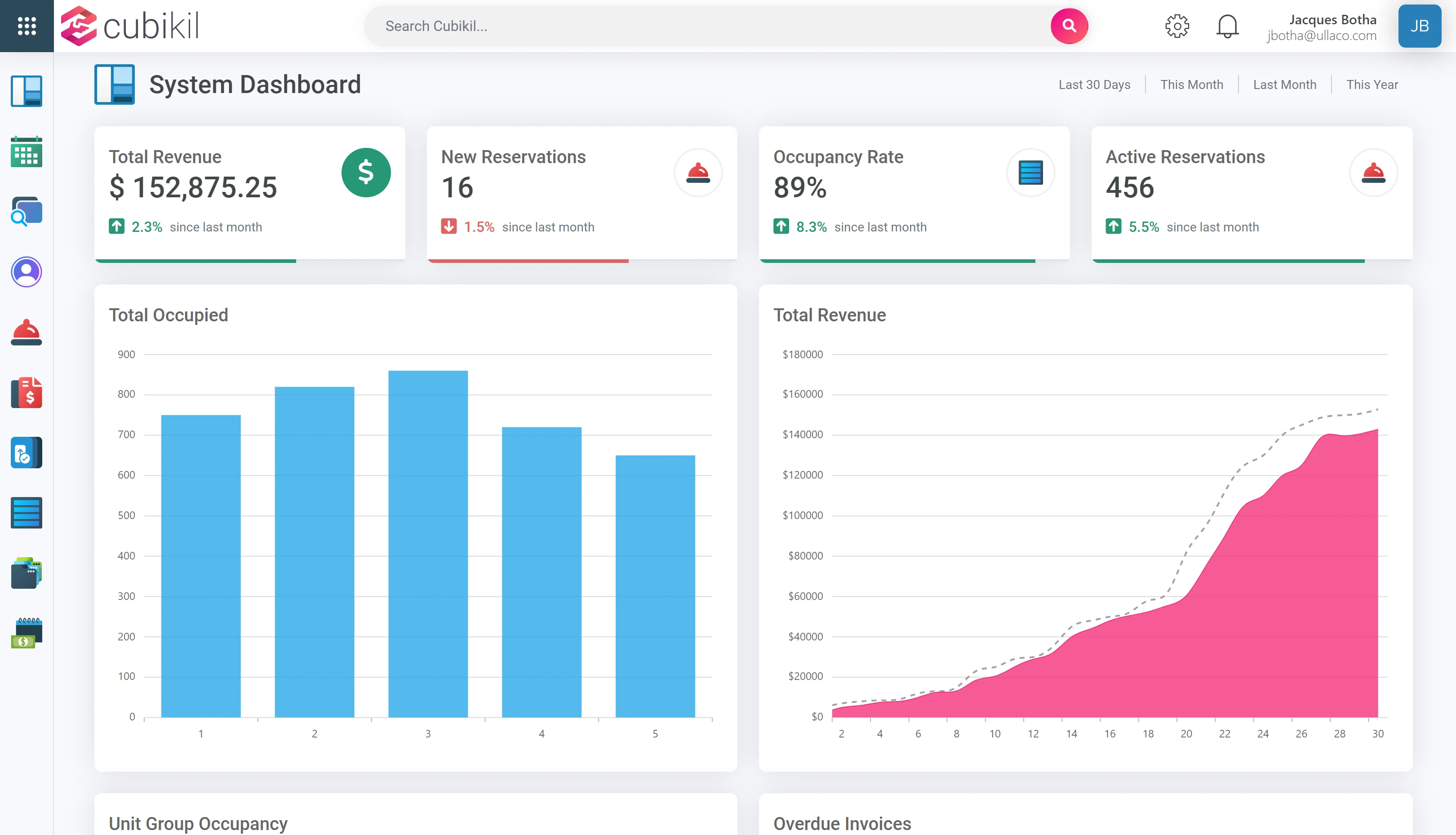 what is cubikil
Cloud-Based Management Platform
Cubikil is a complete site management solution created to provide a seamless, self-sustaining digital infrastructure for any business needing management software.
Our services benefit self-storage companies, campgrounds, facility managers and more. In fact, our management system is compatible with just about any business that needs to keep track of rental units, equipment and properties.
Track your customers and empty units all from one easy-to-navigate platform. With Cubikil, your staff can also easily access unit inventory and add special pricing, right from our platform.Pull reports in minutes that gives you real-time comparison data to plan for your next quarter. Book a demonstration today to gain control over your facility and your data.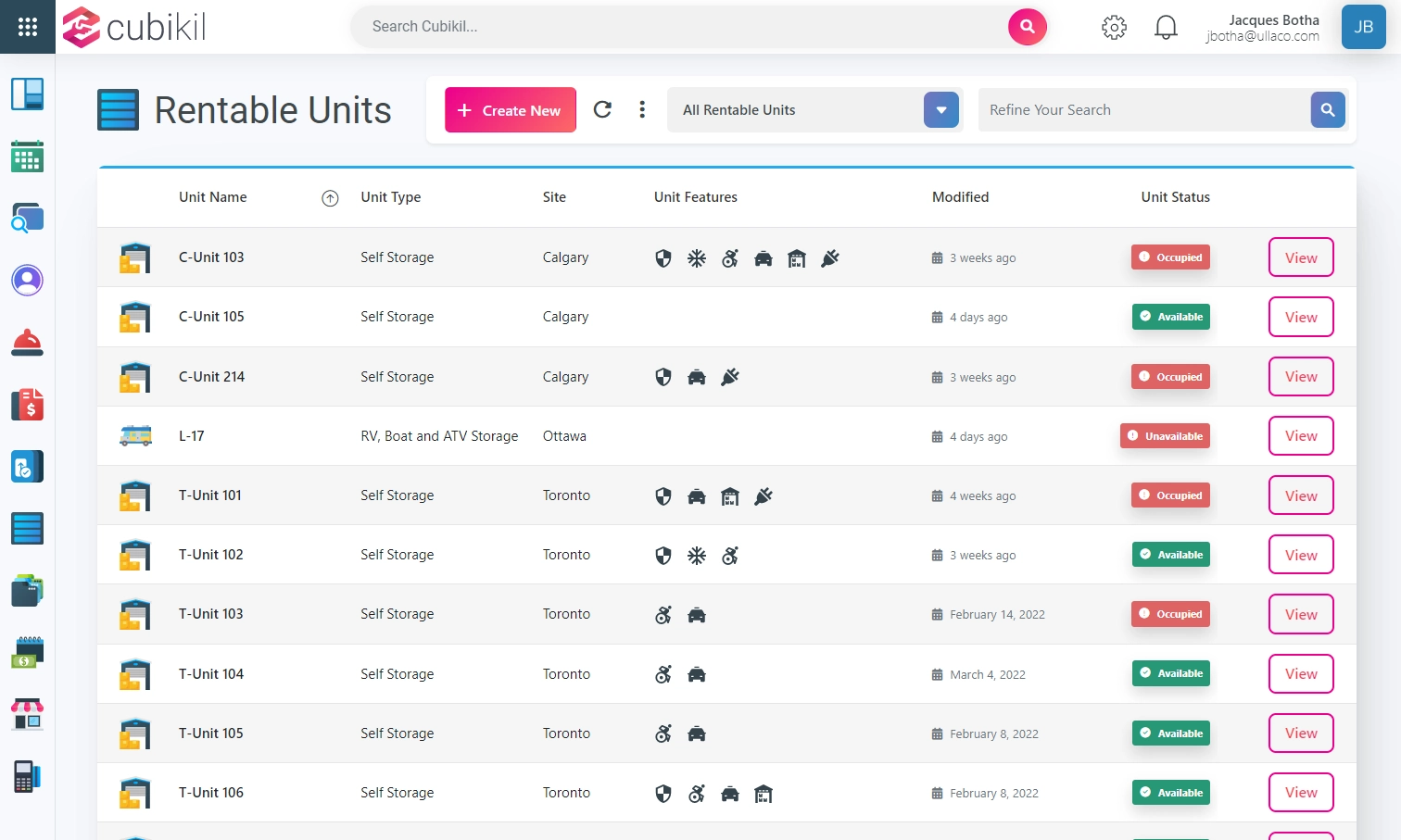 only pay for occupied units
No Suprises, No Hidden Fees
Free To Use
Unlike other management software solutions, Cubikil only charges you per transaction. You only pay for occupied units.
Merchant Fees Included
Never worry about hidden credit or debit card processing fees when using Cubikil Merchant Services. Pay the same rate for every transaction.
Flexible Month To Month
We provide month-to-month, six-month, or 12-month service options. Lower transaction and processing fees are available on longer-term commitments.
cubikil merchant services
Seamless Payment Processing
With Cubikil Merchant Services, we offer the tools you need to accept payments, whether it is online or in person. You'll even have the ability to let customers choose how they want to pay. Our payment processing services work with all major credit cards and digital wallet services like Apple Pay and Google Pay.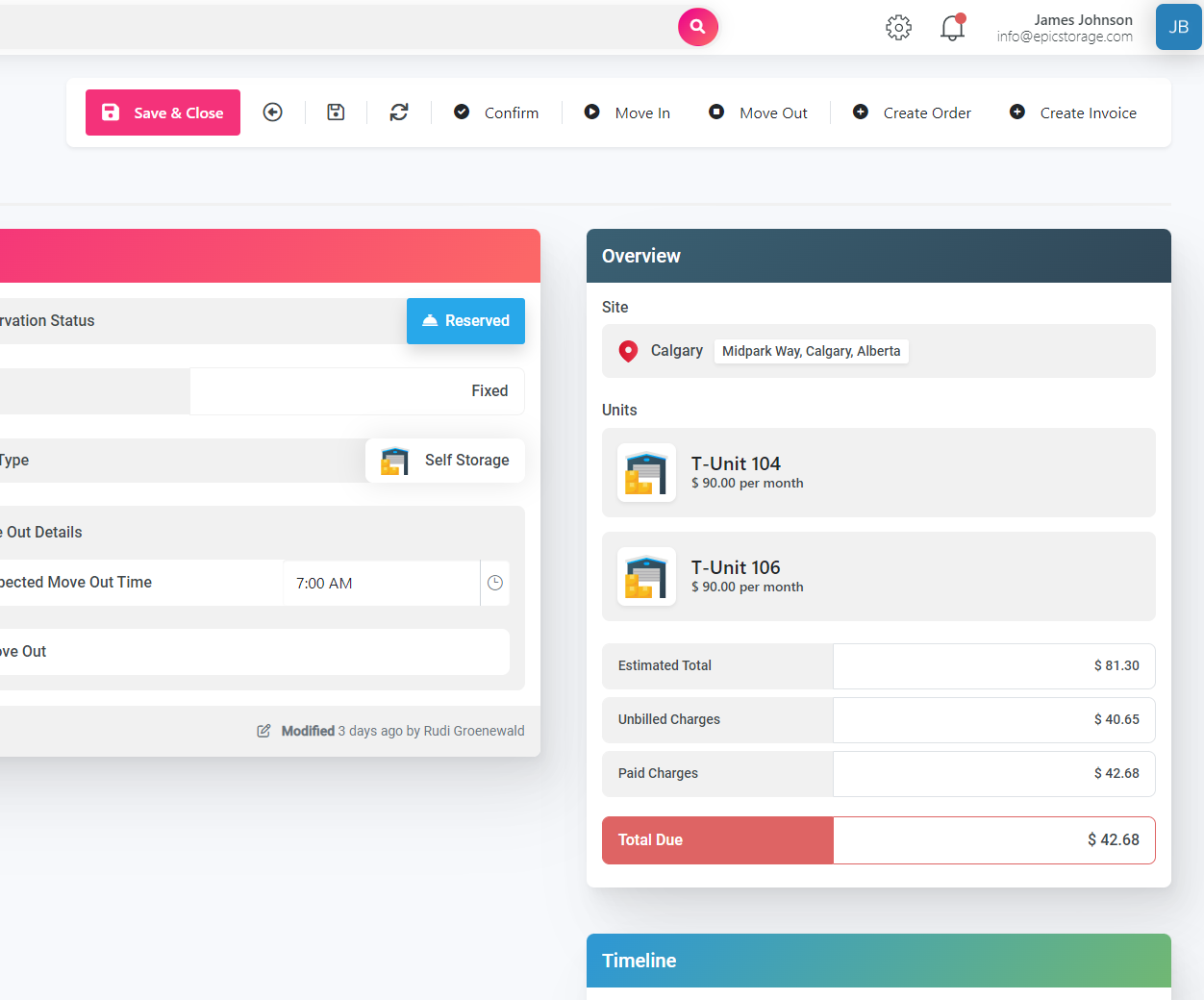 what cubikil can do for your business
Finally, An All-In-One Solution
Cubikil was created to streamline the site management process. But more than that, we wanted to offer our clients a complete, end-to-end solution that manages the entire life cycle of every unit you rent. From a custom API integration with your website to the ability to block out cleaning time between leases, Cubikil offers everything your business needs.
Our automated tasking system allows your staff to spend time on the areas of your business that still need a human touch. But for everything else, our software is all you need. Best of all, with our cloud-based facility management platform, you can access your units from anywhere in the world. All you need is internet access.
only pay for occupied units
Self-Storage Facility Management Software
Real Time Data, Accessible Anywhere
Cubikil's cloud-based management system provides self-storage operators with a complete site management service. Our software offers ultimate data management and control for single and multi-facility operators alike.
In addition, our easy-to-use software integrates with your website to allow customers to quickly view, book and pay online for available units.
Best of all, your customers can choose how they want to pay. With Cubikil Merchant Services, you can accept any credit card or digital wallet payment, all for a flat fee.
We know security is important to our clients, which is why Cubikil Merchant Services also offers machine learning fraud detection to protect your business.
Customer Management
Electronic Payments
Full Website Integration
Lease Management
key features that make us stand out
What Cubikil Has To Offer
Full WordPress Integration
With Cubikil's custom API functionality, you can easily connect your WordPress website to our cloud-based platform.
Accept reservations and full payments on your website by connecting it with Cubikil Merchant Services using our revolutionized plugin.
Responsive Dashboard
With an intuitive dashboard, you can log in and quickly see how your business is doing. This makes it easy to understand your profit and occupancy percentages.
Easy Move-In & Move Out
With a click of a button, your staff can easily reserve, confirm and occupy a self-storage unit or camp spot. This includes scheduling automated blackout dates.
Increase Productivity
Cubikil has you covered in every step of the rental process. Our end-to-end solution allows you to seamlessly schedule reservations or planned maintenance.
Invoicing & Orders
With Cubikil's unit reservation process, you can create orders and invoices within seconds. Receive payments through our fully integrated payment processing services.
reconnect with nature
Campground & RV Park Management Software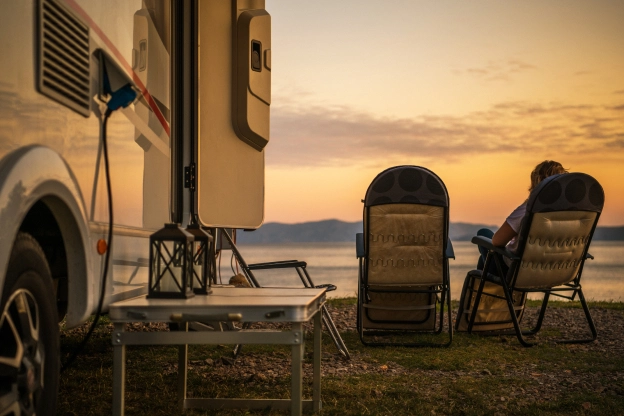 Improve Productivity & Occupancy
Year after year, it's the same thing - endless phone calls to organize your campground reservations, staff and camp store. With Cubikil, we offer a cost-effective, full-service campground software solution to make you enjoy summers again.
Cubikil's platform was created for any business that needs streamlined site management. Our custom campground booking and management software provide an end-to-end solution for parks, recreation centres, seasonal and yearly campgrounds, RV parks and more.
When your park or campground integrates with Cubikil, you can manage every aspect of it, from maintenance to activity and event planning to even your store sales, all in one easy-to-use platform.
Work Order Management
Mobile Check-In
Flexible Reservations
Seamless Schedule Management
gain more control over your data
Facility Management Software
Easily Co-ordinate, Schedule & Execute Tasks
Manage your maintenance and teams more efficiently with Cubikil's cloud-based management system. Our platform was designed to offer seamless and painless solutions to facility managers, self-storage owners and any other company that has a site they need to manage.
Get more from your teams by automating tasks so your staff can spend more time on the parts of your business that require a human touch. Our facility management software puts you in control by providing an end-to-end solution that allows you to schedule, assign and track your organization quickly. With Cubikil, you have more control over your facility and data.
Request a demonstration from our team today to learn how Cubikil can seamlessly integrate as your management software.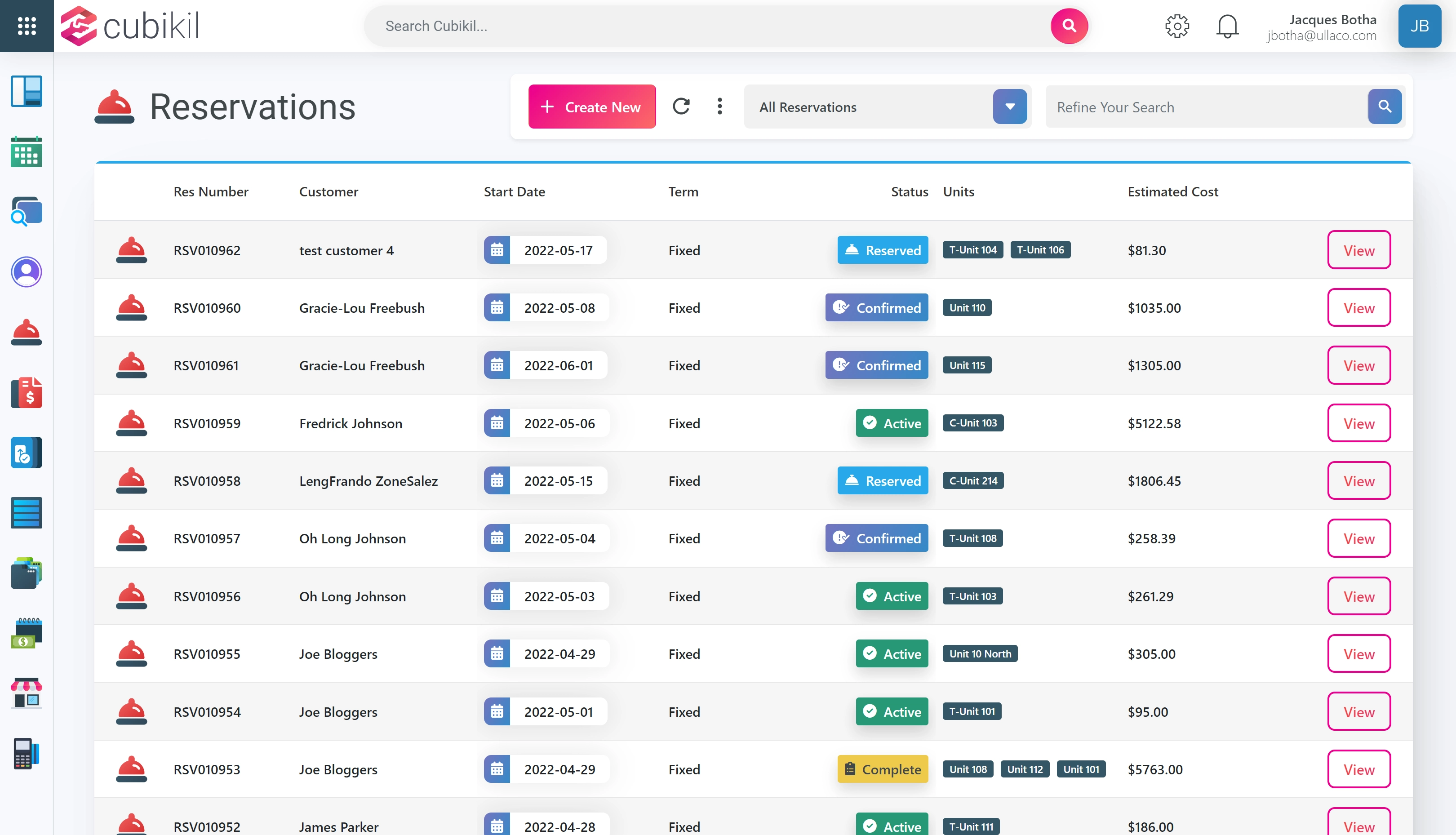 Modern Online Software
Intuitive Dashboard
Automated Reports
Streamlined Task Management